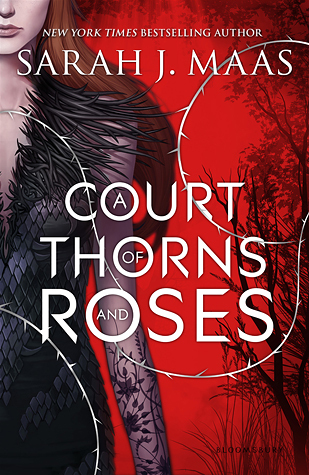 Title: A Court of Thorns and Roses (ACOTAR)
Author: Sarah J. Maas
Genre: Fantasy, YA, Romance, New Adult
Format: Paperback
Pages: 416
Date Read: February 27 to March 04, 2016
---
Feyre's survival rests upon her ability to hunt and kill – the forest where she lives is a cold, bleak place in the long winter months. So when she spots a deer in the forest being pursued by a wolf, she cannot resist fighting it for the flesh. But to do so, she must kill the predator and killing something so precious comes at a price.
Dragged to a magical kingdom for the murder of a faerie, Feyre discovers that her captor, his face obscured by a jewelled mask, is hiding far more than his piercing green eyes would suggest. Feyre's presence at the court is closely guarded, and as she begins to learn why, her feelings for him turn from hostility to passion and the faerie lands become an even more dangerous place. Feyre must fight to break an ancient curse, or she will lose him forever.
"I love you," he whispered, and kissed my brow. "Thorns and all."
!!!TINY SPOILER AHEAD!!!
I would read this book over and over again if I have to.
Maas never fails to impress me.
Her characters' personalities are always so realistically written.
It's so easy to relate myself in each of the characters, especially the female protagonist, Feyre.
And the setting of the story is just so beautiful I could picture Prythian in my mind.
May I just point out those wonderful handsome male characters? Tamlin, Lucien, Rhysand… Oh don't even get me started with Rhysand… the guy is seriously killing me mentally and emotionally.
Anyways, the plot was amazingly written. And if I hadn't read spoilers before, I wouldn't have guessed the curse on Tamlin (which was sort of cliché in a good way).
Feyre's and Tamlin's characters and love story remind me so much of Beauty and the Beast. I don't know if Maas really did base their story from Beauty and the Beast, but it really reminded me of it. The whole time I was reading it I kept thinking of Belle and the Beast. (And yes, I mean the Disney version.)

Lucien is also another awesome character! Such a sassy guy he is. He's probably the sunshine to this story, though of course he could be rude and arrogant sometimes.
Rhysand reminds me so much of Hades. (which I learned later that he really was based on the god of the underworld.) Though the Hades in my mind was exactly based on another book of Greek gods where Hades is sexy, intimidating, gentle and harsh at the same time, and has a some sort of a rockstar get up.

OKAY! Enough of Rhysand.

All in all, this book was so utterly amazing I'm giving it 5 stars!
More if I could!
Can't wait for the second book!